Pfister's Characterization
Who are these people?
As long as you continue to answer that question, you have me as a reader.
ASOIAF is loaded with every sort of characterization. Our example will be Catelyn IV. ~1,400 of the chapter's 4,000 words (35%) reveal character in some way, and that ratio would be higher if Martin didn't need 500 words to introduce the reader to King's Landing. How are those 1,400 words presented? Manfred Jahn lays out a taxonomy of characterization here. And here's a spruced up version of the resultant tree: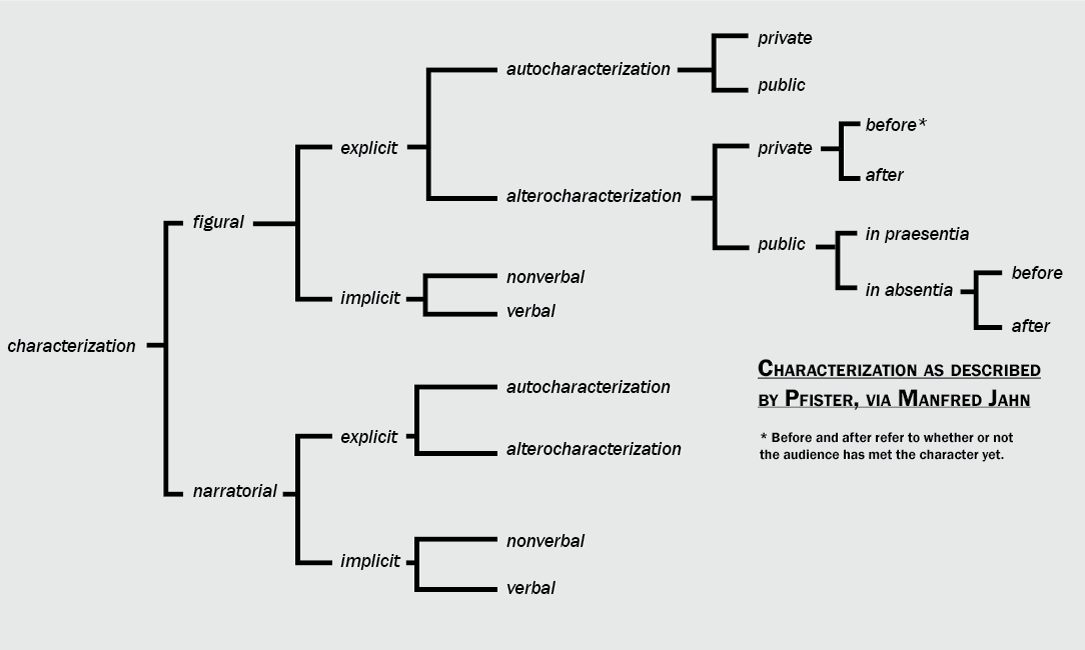 Let's work our way along the branches, demonstrating what each type of characterization is good for, and how it might be done.
To begin with, we can prune the bottom branch; all characterization in ASOIAF should be understood to originate from the characters. This is a judgement call. Certainly Martin's presence can be felt by what he chooses his characters to notice and not notice, but the POV is tight enough I'm not comfortable saying there is a narrator discrete from the characters.
Figural-Explicit-Auto-Private
She could not bend the last two fingers on her left hand, and the others would never again be dexterous.
Catelyn was past delicacy.
The voyage had been long and fatiguing, and she was no longer as young as she had been.
She trusted Littlefinger only a little, and Varys not at all.
She would not let them see her grief.
When a character looks in the mirror and tells you what they see, they probably aren't lying, but that doesn't mean they're accurate. Here's where you get rationalizations and denial.
Martin doesn't do any of that in this chapter, and in fact these characterizations could very well come from the narrator; but I think it's more interesting if we consider these to be Catelyn's thoughts. That "never again" in #1 and the "no longer as young" in #3 are more wistful when they're rooted in Catelyn's consciousness. (And tragic when you consider how little time she'll have with her impaired fingers.)
Figural-Explicit-Auto-Public
Ser Rodrik held the rail and looked out over the passing shore. "I have not been the most valiant of protectors."
[Littlefinger] shrugged. "Why not me? I am master of coin, the king's own councillor. Selmy and Lord Renly rode north to meet Robert, and Lord Stannis is gone to Dragonstone, leaving only Maester Pycelle and me. I was the obvious choice. I was ever a friend to your sister Lysa, Varys knows that."
Littlefinger laughed. "Oh, very good, my lady, but please don't expect me to believe that. I know you too well."
"The whisperings of little birds," Varys said, smiling. "I know things, sweet lady. That is the nature of my service."
[Moreo had] been plying the narrow sea for thirty years, he'd told her, as oarman, quartermaster, and finally captain of his own trading galleys.
ASOIAF is about politics, and so everyone's trying to manage their image. A writer can have fun with that. Each public declaration of identity is an opportunity for irony or implicit characterization. There is no description more loaded than a self-description made in company. There is always some motive, some mask being donned, or else the act of definition would be unnecessary. As Jahn writes:
Auto-characterization is often marked by face- or image-saving strategies, wishful thinking, and other "subjective distortions"
What do we learn about Rodrik when he apologizes for not being a valiant protector? We learn that he's a good guy with an aw-shucks mentality who embraces his subordination to his noble charge. A classic example of the loyal servant.
What about when Littlefinger claims he knows Catelyn too well? A presumptuous claim, and he's a presumptuous man.
Figural-Explicit-Altero-Private-After
[Moreo] spoke the Common Tongue fluently, with only the slightest hint of a Tyroshi accent.
[Rodrik] was looking better. A shade thinner than he had been when they set out from White Harbor, but almost himself again.
[Rodrik] looked odd without his great white side whiskers; smaller somehow, less fierce, and ten years older.
The woman who owned it was a sour crone with a wandering eye who looked them over suspiciously and bit the coin that Catelyn offered her to make sure it was real.
Ser Rodrik would never have told him. Old he might be, but he was stubborn, and loyal to a fault.
"I've angered you, my lady. That was never my intent." He looked contrite. The look brought back vivid memories for Catelyn. He had been a sly child, but after his mischiefs he always looked contrite; it was a gift he had. The years had not changed him much.
Her throat was dry. "Family, Duty, Honor," she recited stiffly. [Littlefinger] did know her too well.
Varys was lord of nothing but the spiderweb, the master of none but his whisperers.
[Varys] was a spider, she thought wildly, an enchanter or worse. He knew things no one could possibly know, unless…
Bread and butter characterization. Facts about people, X was this, Y was that.
Figural-Explicit-Altero-Public-in praesentia
Captain Moreo Turnitis favored her with a half bow. "You are far too generous, Lady Stark."
Jahn puts it nicely here:
Altero-characterization is often heavily influenced by social hierarchies and "strategic aims and tactical considerations" (Pfister 1988: 184), especially when the judgment in question is a public statement made in a dialogue (as opposed to when it is made in a character's interior monologue – N8.9), and even more so when the person characterized is present (in praesentia – obvious case: how advisable is it to criticize a tyrant?).
These next two can be considered as a pair.
Figural-Explicit-Altero-Private-Before
His father had died several years before, so he was Lord Baelish now, yet still they called him Littlefinger […] His family's modest holdings were on the smallest of the Fingers, and Petyr had been slight and short for his age.
This type is likely to be pure exposition. I don't hear much of Catelyn in this description. I think this is Martin being a good host; making introductions is a big part of hospitality, after all, and I talk elsewhere about how he likes to brief you on characters before you meet them.
Figural-Explicit-Altero-Public-in absentia-Before
"Ser Aron Santagar is a vain man, but an honest one."
"[Littlefinger] was my father's ward. We grew up together in Riverrun. I thought of him as a brother, but his feelings for me were… more than brotherly. When it was announced that I was to wed Brandon Stark, Petyr challenged for the right to my hand. It was madness. Brandon was twenty, Petyr scarcely fifteen. I had to beg Brandon to spare Petyr's life. He let him off with a scar. Afterward my father sent him away. I have not seen him since."
"I knew he would rise high," Catelyn said. "He was always clever, even as a boy, but it is one thing to be clever and another to be wise. I wonder what the years have done to him."
"Lord Varys knows all," Petyr said.
Littlefinger winced. "You don't want to call him that. He's very sensitive. Comes of being an eunuch, I imagine. Nothing happens in this city without Varys knowing. Oftimes he knows about it before it happens. He has informants everywhere. His little birds, he calls them."
Try this one out. I really believe that the popularity of Tywin and Stannis can be credited (in some part) to this style of characterization.
Figural-Explicit-Altero-Public-in absentia-After
"Never has a king been so beloved as our Robert," quipped Littlefinger. He smiled slyly. "At least in Lord Varys's hearing."
Here we see the importance of that in praesentia vs. in absentia. Littlefinger is outrageously rude to Ned, but he wouldn't try such a tack in the presence of the king. With Robert far away, he's got no qualms about letting the quips fly. You probably do the same thing with your family, friends, or bosses. I find that dynamic really interesting. Sure, a kid is likely to grovel in the presence of the teacher, but are they any more accurate when the teacher's out? The audience always exerts a pressure on the speaker; perhaps on the playground the student feels obligated to disparage a teacher that they don't really mind.
Allow the reader to compare a variety of these descriptive modes and you'll quickly develop some complexity that cuts a couple different ways. If the character describes the Other in three different ways, depending on context, that will raise questions about their true feelings. At the same time, the reader will be comparing each of the descriptions to the Other, to see which, if any, fit.
Figural-Implicit-Nonverbal
Now we come to implicit characterization. Almost always in progress, you will notice it if you pay attention to the verbs and adjectives the author selects. In ASOIAF, there's a great deal of attention paid to the characters' bodies. Petyr's slight build is no accident, but a shorthand. This Machiavelli has a Napoleon complex! And Varys's soft damp hands and perfume and plumpness all indicate transgressive masculinity in purple neon. But unlike the straight line between Littlefinger's habitus and his psyche, Varys's body is a trickier thing. I expand on this topic here.
Catelyn turned away from the rail and forced herself to smile. "Your oarmen have done well by us, Captain. Each one of them shall have a silver stag, as a token of my gratitude."
Ser Rodrik managed a wry smile. "So soon?"
Catelyn touched his arm. "We are here, Ser Rodrik, and safely. That is all that truly matters."
Moreo came bustling up, all smiles.
Just to be sure, Catelyn paid the oarmen herself, a stag to each man, and a copper to the two men who carried their chests halfway up Visenya's hill to the inn that Moreo had suggested.
"A moment," she called out. She wrapped herself in her cloak. The dagger was on the bedside table. She snatched it up before she unlatched the heavy wooden door.
"Lord Varys knows all," Petyr said with a sly smile.
The man [Varys] who stepped through the door was plump, perfumed, powdered, and as hairless as an egg. He wore a vest of woven gold thread over a loose gown of purple silk, and on his feet were pointed slippers of soft velvet.
Petyr had been a small boy, and he had grown into a small man, an inch or two shorter than Catelyn, slender and quick, with the sharp features she remembered and the same laughing grey-green eyes. He had a little pointed chin beard now, and threads of silver in his dark hair, though he was still shy of thirty. They went well with the silver mockingbird that fastened his cloak. Even as a child, he had always loved his silver.
[Varys's] flesh was soft and moist, and his breath smelled of lilacs.
The eunuch spread his soft hands.
Varys giggled like a little girl.
Catelyn pulled it out from beneath her cloak and threw it down on the table in front of him… Varys lifted the knife with exaggerated delicacy and ran a thumb along its edge. Blood welled, and he let out a squeal and dropped the dagger back on the table.
Littlefinger hefted the knife lightly in his hand, testing the grip. He flipped it in the air, caught it again with his other hand… He grasped the blade between thumb and forefinger, drew it back over his shoulder, and threw it across the room with a practiced flick of his wrist. It struck the door and buried itself deep in the oak, quivering.
Figural-Implicit-Verbal
Dialogue is Martin's strong suit. There are many ways to write good dialogue: playwrights tend to excel in poetic speech, speech that reveals emotion ("O hell-kite! All?"); TV writers excel in banter, patter, debate (From Sorkin to Tina Fey); genre writers do well with the idiomatic and the quirky turn of phrase (Elmore Leonard, the Coen Brothers, etc.) Martin's dialogue does a great job of revealing social dynamics. As you read these examples, notice how characters blow smoke, provoke, or deprecate each other.
Varys has certain phrases like sweet lady and grievous, alongside other traditionally feminine speech markers.
Ser Rodrik chose that moment to appear on deck. "My good friend," said Moreo through his forked green beard. (Obviously flattery, Moreo is not good friends with Rodrik.)
Yet [her maimed hand] was a small enough price to pay for Bran's life.
Ser Rodrik cleared his throat. "Lord Baelish once, ah…" His thought trailed off uncertainly in search of the polite word.
Moreo: "King's Landing, my lady, as you did command, and never has a ship made a swifter or surer passage. Will you be needing assistance to carry your things to the castle?"
The Tyroshi fingered his forked green beard. "Just so. I know of several establishments that might suit your needs. Yet first, if I may be so bold, there is the matter of the second half of the payment we agreed upon. And of course the extra silver you were so kind as to promise. Sixty stags, I believe it was."
"No, m'lady," he said. "M'lord Littlefinger said only to bring you to him, and see that you were not mistreated."
"I am not accustomed to being summoned like a serving wench," she said icily. "As a boy, you still knew the meaning of courtesy."
Littlefinger: "Old sweet friends should never hesitate to rely upon each other."
Varys: "Lady Stark," he said, taking her hand in both of his, "to see you again after so many years is such a joy […] Oh, your poor hands. Have you burned yourself, sweet lady? The fingers are so delicate… Our good Maester Pycelle makes a marvelous salve, shall I send for a jar?" (Moreo isn't the only unctuous one.)
The eunuch spread his soft hands. "On more than that, I hope, sweet lady. I have great esteem for your husband, our new Hand, and I know we do both love King Robert."
[Varys] eased himself down into a seat and put his hands together. "I wonder if we might trouble you to show us the dagger?"